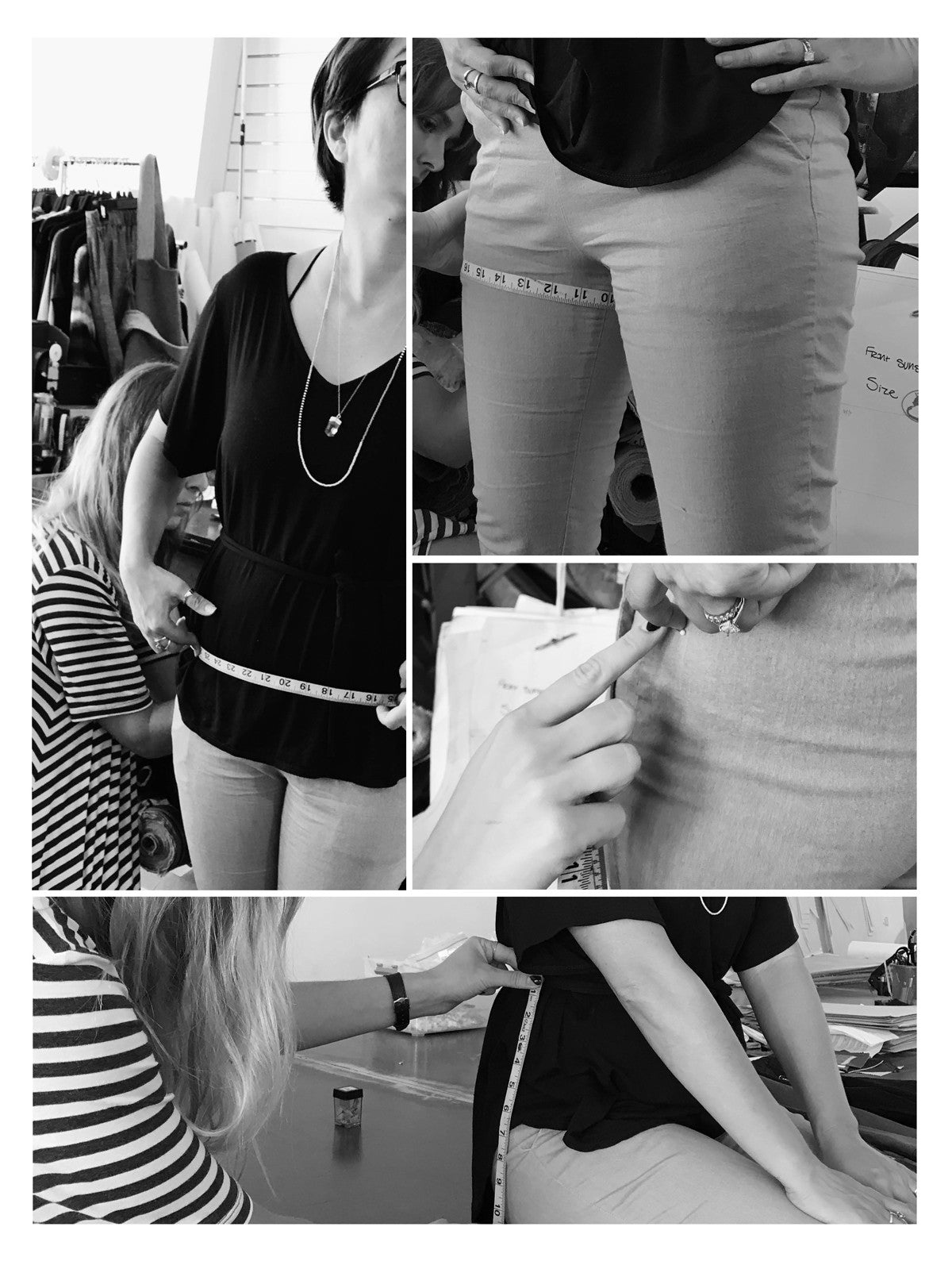 I'm so embarrassed that I decided to share this blog post with you (I apologize for the up-close a personal pics of me), but i wanted you to get an in-depth look (eek!) at what we do to make (what we consider) the perfect pant!  It all starts with our basic petite pattern (where the proportions are made for us short girls), and from there we dream up THE PERFECT STYLE (is it a skinny jean, a cropped pant, or a wide leg?).   We generally use basic proportions like a waist-hip-thigh-calf measurements (from real petite bodies) and we draw out the pattern.
Above, you see us working to make the "perfect AL pant" - the pant that will perfectly fit my 5'2" height, with baby belly (ok, i have a 6 yr old and a 4 yr old), and flat booty, while also hiding the baby belly, and making that booty look good!  From the 1st pattern, we make a 1st sample.  Then its limitless!  Sometimes, we get it right on the 3rd sample, sometimes it takes 10 samples?  And for each fabric we do, requires another sample and possibly some tweeks.  In the pics above, Im wearing the infamous KIKI CAPRI.  This is one of our most popular styles, and it was a labor of love!  From this popular style, we did the Knit KIKI, which is super comfy (coming back into stock soon) and the
Double Knit KOKO
(which we have a few left in assorted sizes and colors)!!  Every time we tried a new fabric, we cut and fit a new sample.
This kind of attention to detail and complete care for our designs is what we do with every piece.  Every top, every pant, every dress and jacket is given the same time and commitment, and every sample is fit on me.  I think I am the pickiest shopper, and I'm a little OCD when it comes to fit - so we spend time pinching and pinning, to make me look and feel skinner and taller.  (and isn't that all we really want!)  And we do it all because #1, we are all a little OCD in this space, #2 we all have body issues that we would like to hide, and #3 we care and love fashion THAT MUCH!  and we care and love YOU THAT MUCH!  We want to make the perfect pant or top for you too!
That's why we love seeing you wear the pants or the tops, and we love and appreciate the feedback and comments, so keep them coming!  Because if we could find the perfect fitting pant and top, wouldn't we just buy it in every color??  :)