how we design
the Allison Izu commitment
Most women hate shopping, usually because they feel like clothing companies don't make clothing for their unique shape. They are either overwhelmed with what is out there, or they feel unseen and unheard by the fashion industry. We are here to change that. We design clothing made for our evolving bodies; we have curves, we have aged, our bodies are different from our 20 year old selves - but we are still worthy. Let us help you find clothing that makes you feel BEAUTIFUL!
"
44% of women dislike shopping as they feel that clothing manufacturers are only making clothes for the skinny young woman.

"
SHOP YOUR BODY TYPE
STEP 1: PICK A PANT
We are known for the fit of our pants . . . comfortable, forgiving and very flattering; designed specifically for women 5'6" and shorter. We take into consideration a woman's curves and shape, and how to use fabric to minimize some parts while elongating and accentuating others.
COLBURN PANT: Choose a more fitted style with a cropped length; great if you're under 5'4" and want to minimize the bottoms half of your body. It's a cropped legging with a comfortable waistband, and a back yoke - it has 4 pockets to make it perfect when you're on the go
CORAL PANT: Choose a more fitted style with a longer inseam; perfect if you're between 5'2" and 5'6". It's like a legging but with a comfortable yoga waistband, and a back yoke - we've also added 4 pockets to make this the perfect travel pant!
How we design
A different approach to pants
We are focused on designing styles that support women in every stage of their lives. with a focus on "petites". Our designer, Allison, is 5'2" and works to create flattering pieces that elongate and lengthen women's bodies. We start with our own unique fit pattern, and fit each style on different bodies to understand how each style will work for different body types, shapes and sizes.
SHOP YOUR BODY TYPE
STEP 2: PICK A TOP
A top is the main focal point of your outfit, so you want to pick something that will flatter your shape and make you feel 100% comfortable. We've organized our top style by fit type to simplify the process. Our True Fit is our most fitted top (designed to skim your body without being too clingy). The Modern Fit is a mix of loose and fitted, which flatters most body types. And the Oversized Fit is perfect if you like a looser fit.
"
76% of Americans believe that women are under more pressure than men are to have a certain body type

"
More information on our Fit Crystals
Allison Izu Sizing
We are more than a clothing company, we are a brand focused on supporting women at every stage of their lives. We have customers ages 18 - 80+; because we work everyday to design styles that allow women to feel seen, heard and valued.

We are a small company of women, working to expand our styles, sizes and fabrics to support your busy lifestyle. Currently, we offer sizes XXS - 2XL, which fits waist measurements from 24 - 52. Click the link below to see out Size Chart

SIZE CHART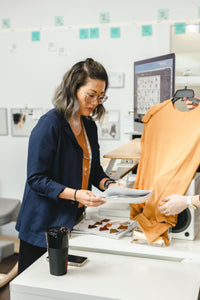 Story
Dressing For a Petite Body
Shopping can sometimes be overwhelming—so many choices with so little information. As a shorter woman, I often find it difficult to wade through what will work for my shorter frame as well as what'...
Read more
"
the average American woman stands at 5'4″ and weighs 140 pounds, while the average American fashion model is 5'11" and 110 pounds.

"
We're here to help with Style Videos
How to style the Sunrise Jogger
Why I started my clothing brand
Our 4 Brand Pillars
We are a team of women committed to growing and evolving everyday. We pride ourselves on working to live our 4 Brand Pillars within our own lives as well as within our design philosophy.

To learn more about our 4 Brand Pillars and what makes this brand unique, please click the link below.
OUR 4 PILLARS