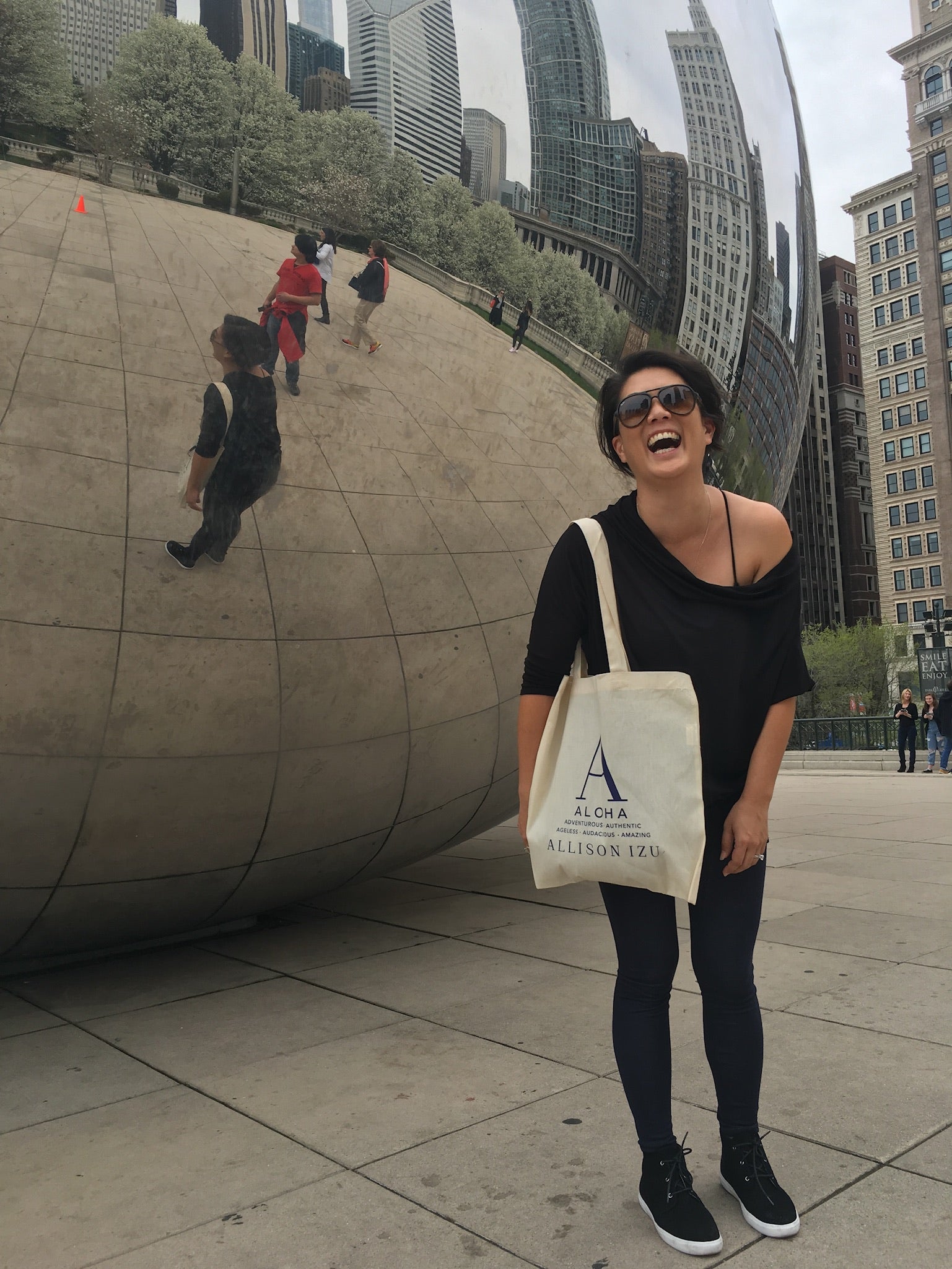 When I first started designing in 2007, I wanted to create clothing that stood for something - that went against the status quo.  I had a bone to pick with the fashion industry and figured it was a good start to a business. During my time at The Fashion Institute of Technology, I realized most brands are designing for a fit model who was 5'8" and lean. Her overall measurements were similar to mine (bust, waist, hips) but the rest of her proportions were completely different.  Her thigh circumference, her inseam, her knee break - nothing came close to mine. That's when it hit me - anyone outside of this "perfect" mold was being completely overlooked in the design process.
So I set out to create a premium petite denim brand - Allison Izu.  With some investment and a little bit of pestering people, I found some success launching this brand. I was featured in national publications like Oprah Magazine, Lucky Magazine, Apparel News, Audrey, well-known blogs, and also local press outlets.  Then luck hit. Well, more like I met Brian Tatsumura, the General Manager of Nordstrom Hawaii. And I bothered him enough that he finally gave me a shot - a trunk show to sell my denim at Nordstrom Ala Moana in 2011.  It was my big break where I had the opportunity to learn from the best, absorb as much knowledge as I could, and try to kick open as many doors as possible.
Through grit, determination and a little ignorance, I was fortunate enough to start in Manoa, to then open a store in Ward Warehouse.  I expanded my repertoire and became a design consultant to a few local brands. Then came the store in Kaimuki while also launching my brand in a national department store called Von Maur.  Finally, I opened my own namesake boutique in Ala Moana Center in 2018.  
I jumped in full speed to all this face-paced movement and serendipitous opportunity without ever looking back.  But I began to feel like I unknowingly punched my ticket onto this roller coaster. . . a ride I didn't even ask myself if I wanted to be on.  Wholesale, Retail, Design, Development, Sourcing, Production - the ups, downs, and loops went on and on. But in this industry, it cycles over and over with every season. We learn to anticipate every twist and turn, living to meet deadlines and allowing someone else to dictate the speed, direction, and regulations of the ride - aka "The Industry." 
I didn't even realize I was riding this "roller coaster" until recently. Some may call it my mid-life crisis, but I call it my awakening.  I can't pinpoint the exact date, but it was a slow removal of the "rose colored" glasses I was wearing on the ride.  Telling myself that I was happy, that I was successful, that I was living the dream!  As the "rose tint" lifted, I kept asking myself "Is this my dream?" And slowly, I began to realize that this wasn't my dream. But, I was afraid to tell anyone, especially myself.  It wasn't that I was unhappy, it was just that I wasn't living my purpose. I wasn't living in my JOY.
So what is my joy? Well, I'm still on that path of finding it.  But I've realized something while on this journey. It's our duty to find what lights us up, and I don't think it's ever too late.  I know I still want to design clothing. I still see a future for Allison Izu as a brand and company.  But there are so many other ideas swirling in my head - an endless amount of dreams and possibilities. I'm learning to admit them to myself and in turn share them with you. 
This is my lesson in my 40's - to find myself again. To rediscover my "wild side." The mixture of audaciousness from my 20's, logic of my 30's, and growth of my 40's - I want to embrace them all and find myself again.  So the question I ask myself everyday is, "What do YOU want today Allison?"  Most times it's small things like saying what I want for dinner (even though I know my kids won't like what I want) or going on an evening walk by myself (and trying a new, unexpected route).  Other times, it could be designing a top that I want in my closet - in a color, print or silhouette that not everyone will like. 
Through this daily practice, I'm finding myself more and more. I hope this gives you some spark of inspiration to start asking yourself what it is that YOU want. Not your husband, not your kids, not society – just you. We owe it to ourselves and those around us to do these small acts of self-love. Because my friend, I think this is where we'll find our truest JOY.